Καλιμερα!
Such a happy start can only mean I finally settled in Athens. It is true that a month ago I was here, but the last weeks have been busy with activities in Madrid, a fast trip to Santiago, a real closing of my placement in London and a great conference in Menorca. More flights, more miles (I am becoming like George Clooney in Up in the air) and more work to carry out before starting the real deal with the project.
1 Madrid
Sometimes I have the feeling that people just see how much I travel and enjoy my #postdoclife on social media. After all, most of what I share has to do with my leisure time. So, this post will be a little bit longer in the form of a photoessay that will tell what I have been doind these days and what I am planning to do from now on…
Right after landing I had to participate in a round table for the presentation of a book: Cuando (no siempre) hablan 'las piedras' by Desiderio Vaquerizo. It is always a pleasure to organize events in the Museo Arqueológico Nacional and this time was not an exception (see image above).
But usually, Madrid is full of activities you can join and the next day we could enjoy one of them. Recently, CDL Madrid has creatd a group of Feminist archaeologists to work on better conditions for the collective and they are very visible (follow them on Twitter). One of their latest activities was a public reading of feminist archaeological texts in CSA Tabacalera for the night of the books. There, C.R.A.S. (follow them too) hosts a space for archaeology that is making the collective quite visible and now fundamental in the struggle to keep the centre open after the takeover from the Ministry to host an art collection in part of it.
Anyway, the afternoon was great, and many people joined to read and listen to some music. It was also a good moment to meet some friends, who I cannot see that often now I don't live there.
But Madrid is only one stop in the route… next one was Santiago de Compostela.
2 Santiago de Compostela
As you already know, Santiago de Compostela is the base of my institution, Incipit (the Institute of Heritage Sciences, dependent of the Spanish National Research Council). I try to go quite often, as we try to have a nice team environment. This time I had to collect my new voice recorder, which will be fundamental for the project, as most of it is interview based.
This time I only spent a few hours there, as connections with Madrid by plane are often and usually not very expensive. But it is a city I highly recommend to visit.
3 London
Right after Santiago I headed London. There I still had a couple of issues to sort out before leaving for good, but also a session at CIfA annual conference in Brighton. I am a member since quite a long time ago. Its conferences are focused on the profession, which is one of my main interests as a professional and a researcher too. Therefore, this year we organised (together with Guillermo Díaz de Liaño, a Spanish colleague currently doing his PhD in Edimburgh) a session on health and archaeology.
The session was really amazing, with a small final workshop to prepare some proposals that might help to improve the situation of our profession in terms of health and safety. With over 30 people taking part on it, we will soon have some interesting conclussions that I will probably share in my main web (www.tdjp.es) soon.
4 Mahón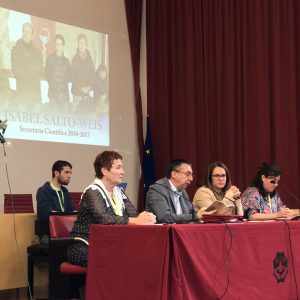 My last stop before Athens was the 3rd International Conference on Best Practices in World Heritage (follow them on FB, TT & IG). The conference was actually amazing, although I could not really take part as much as I would have liked too, as I was coordinating the social media and it took a lot of work.
Some of the topics were really intersting and I managed to take some notes from my 'cave' that will be very helpful for the project. After all, we were in the Mediterranean talking about archaeology and heritage management.
It was also a great place to increase the network of professionals interested in the topic, specially young ones, as they (or 'we') had a specific place in the conference and could speak a lot and share experiences and ideas.
This was a very intensive week, but it was worth. Also, I cannot continue without remembering Isabel, our colleague with the scientific secretariat of the conference, who passed away last year and we really missed… and on the bright side, recommending all you to visit Menorca.
& Athens
And so I got to Athens, aleady a while ago, but very busy sorting out my arrival (house, university, friends… the usual).
I will probably extend a little bit more in the next post soon, but for the moment, as the summer will be quiet for the project (main activity coming from October), I am organizing with Elena Papagiannopoulou a small activity for the event Dialogues in Archaeology here, from next week: A participatory mapping of wall tags in Athens, to better understand the city (at least trying to see if the methodology designed works). Then I will focus on learning Greek with an intensive course in the University of Athens and little by little I will start conducting some interviews here and finishing the arrangements for fieldwork.